Welcome
Windtree Therapeutics, Inc. is advancing late-stage interventions for cardiovascular disorders to treat patients in moments of crisis.
Using new scientific and clinical approaches, Windtree is developing a multi-asset franchise anchored around compounds with an ability to activate SERCA2a, with our lead candidate, istaroxime, being developed as a first in class treatment for cardiogenic shock and acute heart failure.
Our Focus: Istaroxime in Cardiogenic Shock
In May 2022, Windtree reported our positive Phase 2 study of istaroxime in early cardiogenic shock (SEISMiC study) results. The study's positive primary endpoint and results have paved the way for our clinical development to potentially have istaroxime Phase 3 ready for cardiogenic shock in 2024.
After these positive data results, Windtree has prioritized istaroxime in cardiogenic shock as our focus. We made this decision based upon the data and these drivers of opportunity and potential commercial value:
Currently available pharmacologic treatments for cardiogenic shock have poor outcomes and undesirable side effects
Lack of competition in development or in the market
Very high cost of cardiogenic shock care (~19.5 days1 in the hospital and > $200k cost2) which creates a big opportunity to demonstrate pharmacoeconomic benefits
Attractive valuation of commercial market potential versus time and cost of development
Cardiogenic shock is a severe presentation of heart failure characterized by low blood pressure and inadequate blood flow to vital organs (hypoperfusion) accompanied by congestion and high filling pressures of the heart. Cardiogenic shock is an area of extreme unmet need with no satisfactory pharmacologic interventions to reverse the condition and available therapies have unwanted side effects such as arrythmias, decreasing blood pressure, renal dysfunction and increases in mortality. Cardiogenic shock has high mortality (approximately 30-40%) and substantial morbidity in survivors.
There is potential for a relatively fast and less expensive development and regulatory pathway for istaroxime.

Windtree's Unique Approach with SERCA2a Activation
Windtree's heart failure platform includes follow-on preclinical SERCA2a Activator assets as well.
Dual mechanism SERCA2a Activators: This class of drug candidates have a similar MOA to istaroxime. The first mechanism strengthens the contraction of the heart and the second mechanism promotes the relaxation of the heart's ventricles so they can fill with more blood in between the heart beats. This group may be well suited for study in both the hospital inpatient area for acute HF where it could be administered as an IV and in the outpatient area as a potential oral pill formulation after a patient is released from the hospital. This group could be developed as a "fast follow on" to istaroxime in acute decompensated heart failure but offer the potential benefit of chronic dosing following patient hospital discharge.
Pure SERCA2a Activators: This group's mechanism of action focuses on the relaxation of the ventricles to fill more with blood in between heart beats. The group may be well suited for study in chronic heart failure as an outpatient in heart failure with preserved ejection fraction or HfpEF. This is an area highly underserved in CV disease.
Also in its portfolio is rostafuroxin, a novel precision drug product targeting treatment resistant hypertensive patients with certain genetic profiles. AEROSURF and KL4 have been out-licensed globally to Lee's Pharmaceutical (HK) and Zhoake Pharmaceutical.
_______________________________________________________
1  US Hospital Claims Data, 2022
2 Agency for Healthcare Research and Quality (AHRQ), 2018
Today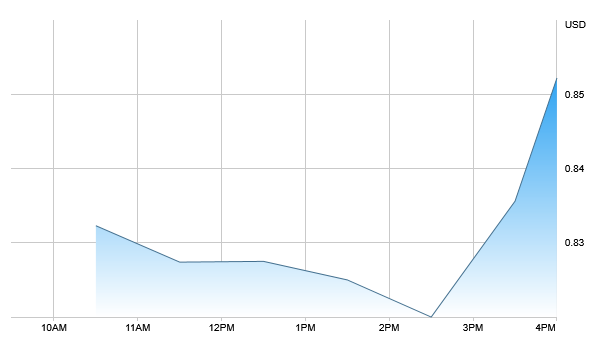 3 mo.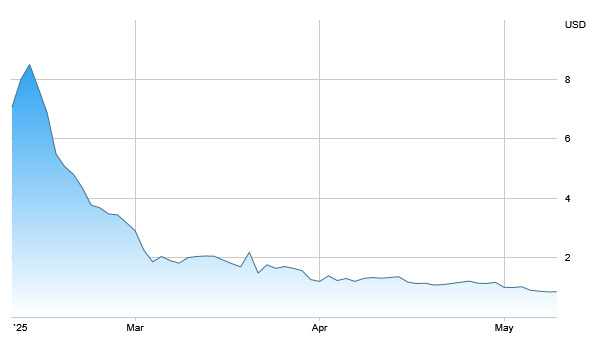 6 mo.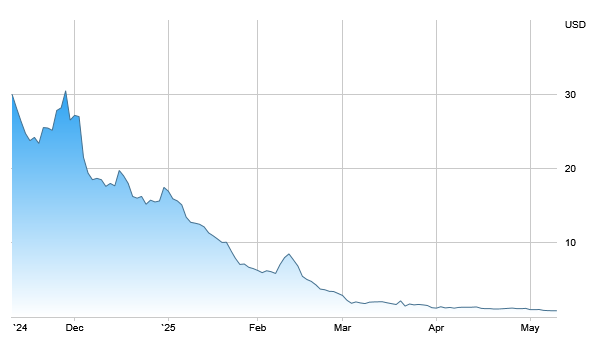 1 year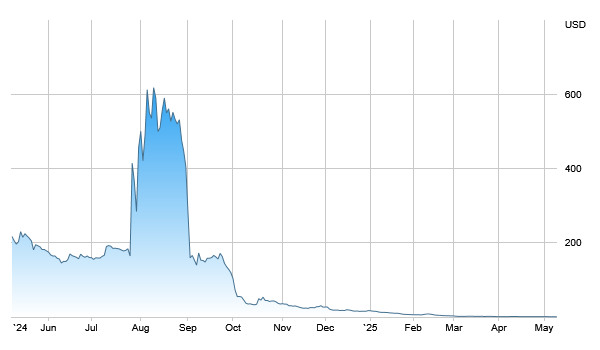 Data Provided by Refinitiv. Minimum 15 minutes delayed.